What We Do:
The Virtual Birthday Party.com is a virtual destination where you host an upcoming birthday party for yourself, friend or loved one anywhere in the world. The Virtual Birthday Party is the perfect way to celebrate a birthday – bringing people together to party (virtually)!
Create a personalized birthday party website for someone special, inviting friends and family to join The Virtual Birthday Party by leaving special birthday messages. The birthday-person may view their birthday messages anytime – and even print the messages as a special birthday keepsake.
What You Do: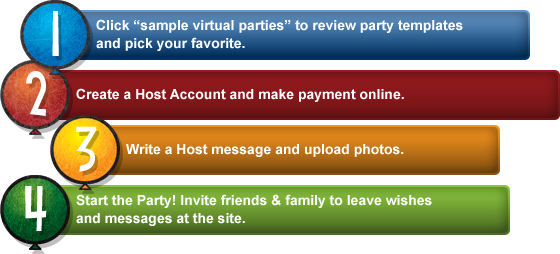 What are the benefits?
The perfect birthday gift
Convenient & simple to use
Personalized virtual gathering place for family & friends
No cost (ever!) for family & friends to leave birthday messages
A printable "birthday card" with everyone's birthday messages as a keepsake
What It Costs:
Each Virtual Birthday Party site is $49. Contacts us at info@thevirtualbirthdayparty.com for special price consideration.